It's been a big week for Eli's Cheesecake around Chicago.  On Sunday, we rolled out the red carpet and served dessert at the Gene Siskel Film Center for the "Hollywood on State" 2015 Oscar award viewing. 
 On Tuesday, we served Eli's Cheesecake on election night, we celebrated the success of Leadbelly Burger's mash-up fundraiser for the Sunshine Activity Center, a not-for-profit organization dedicated to the development of life skills in persons with developmental disabilities.
Leadbelly Burgers created an Eli's Cheesecake beignet made with Eli's Cheesecake and Leadbelly's fresh bread dough. Leadbelly Burger donated half of the proceeds from their beignet dessert sales to the Sunshine Activity Center and Eli's Cheesecake matched their donation.
We also had the 94.7 WLS Radio Prize Patrol visit the Eli's Cheesecake Bakery giving away CD's, concert tickets, t-shirts, key chains and more. Then, it was off to election night to serve Eli's Cheesecake while waiting for the results.
Wednesday night we celebrated The Chicago Help Initiative's 15th anniversary of serving meals to those in need! Eli's provided and served dinner and dessert by volunteers from The Eli's Cheesecake Company.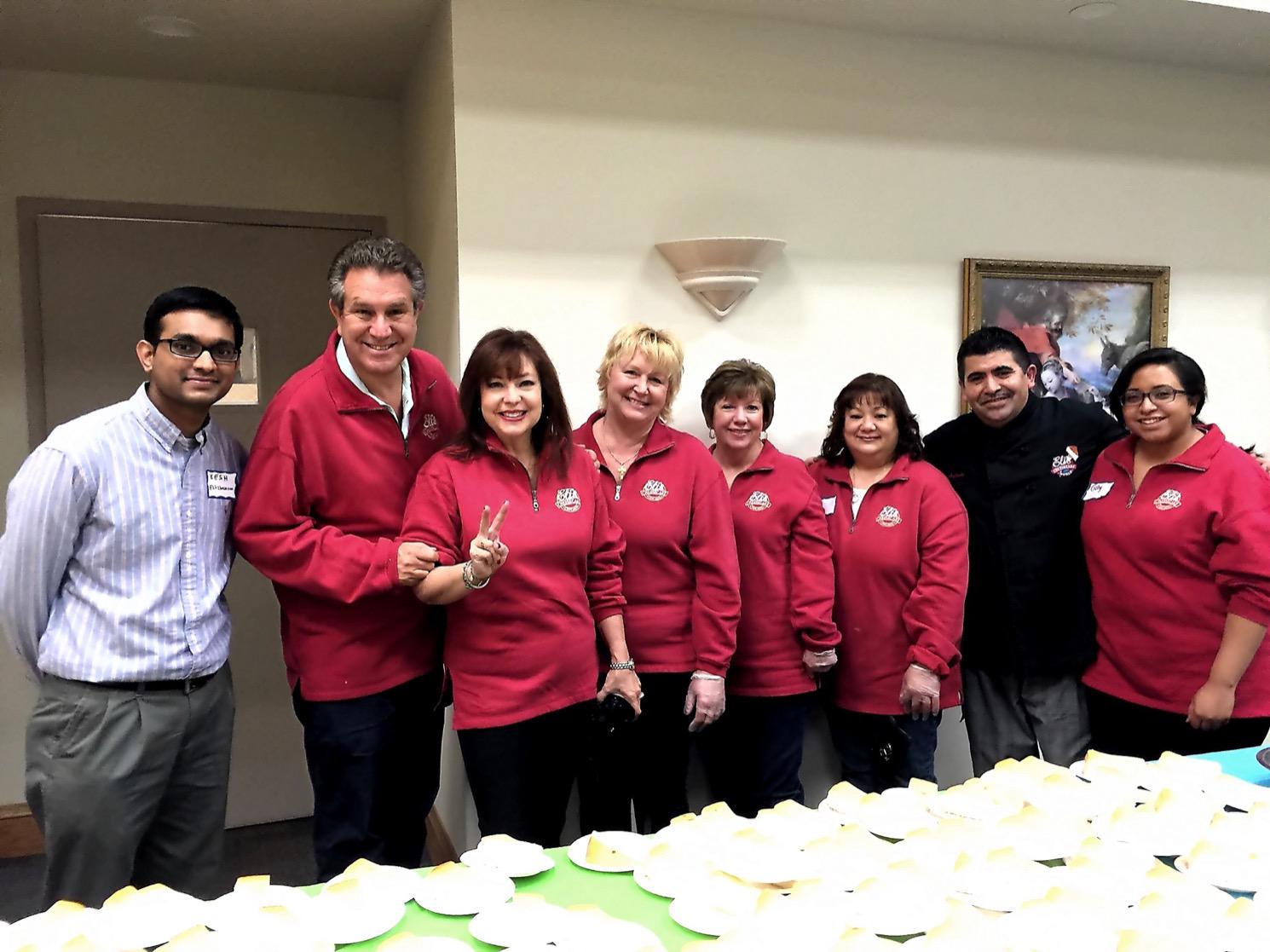 Using our own recipes from our restaurant, we  prepared the following menu:
Eli's Table Surprise – iced vegetable and pickle crudité
Roast tenderloin of beef with demi-gloss
Creamy potato and caramelized onion gratin
Sauté of carrot and green bean
Dressed warm spinach salad with crisp bacon, candied red onion and egg
Eli's the Place bread basket -rye, fennel, soft roll, bagel chip
Anniversary cheesecake
Thursday night Eli's Cheesecake and desserts will be served at the annual James Tyree Foundation benefit. 
The Foundation supports educational endeavors that foster creativity and innovation to improve the lives of people in the Chicagoland area. 
Looking ahead to the weekend, we will be at the Love of Chocolate event on Saturday and the 2nd annual Eli's and O'Briens Irish Cheesecake Bake-Off to benefit Mercy Home for Boys & Girls  on Sunday, March 1st.  Stay tuned for photos and updates. It may be freezing in Chicago, but we are warming hearts around "my kind of town"!