September has been a busy month at the Eli's Cheesecake Company. We are honored to be able to participate in a wide variety of events in our community:
2017 marks the 10 Year Anniversary of Chicago Gourmet, a sensational weekend full of food, wine, spirits and more! It includes celebrity chef demos, can't-miss wine and cocktail seminars, and tastings galore of delicious food, wine, spirits, and beer. More than 150 of the finest restaurants and chefs, hundreds of wineries, spirit makers and breweries will be in attendance.
To honor the 10th Anniversary, Eli's Pastry Chefs are baking up a special BIG Slice Cheesecake! Come on down to Chicago's beautiful Millennium Park and see our Executive Pastry Chef Laurel Boger and her demo at Chicago Gourmet this Saturday, September 23 at 12:30pm in Decadence Dessert Tasting Pavilion 10. Chef Boger will demonstrate (and sample!) Eli's Chocolate Chip Cheesecake Sandwiches, featured in our Cookbook! She will also be sampling Eli's Original Plain Cheesecake… the one that started it all!
Chicago Gourmet runs through September 24. For tickets and more info, visit Chicago Gourmet.
Chicago Sinfonietta is a professional orchestra dedicated to modeling and promoting diversity, inclusion, and both racial and cultural equity in the arts through the universal language of symphonic music. Our core values are built around being bold and daring in all aspects of our work, providing a source of connectivity through music, and ensuring and inspiring a continued investment in diversity and inclusion in classical music. 
Eli's provided Salted Caramel Tarts (yum!) for the September 16 show, which took place at North Central College's Wentz Concert Hall.
The Museum of Contemporary Art (MCA) hosts Vernissage, the opening night preview of EXPO CHICAGO at Festival Hall, Navy Pier. This extraordinary benefit, organized by the MCA Women's Board, is a highly anticipated event each year. This year was particularly special as it coincided with MCA 50, a celebration of the 50th anniversary of the MCA's founding in 1967. Entering its sixth edition, EXPO CHICAGO presents artwork from 145 leading galleries around the world. The exposition provides critical opportunities for curators, collectors, and art patrons to survey the best in innovative and emerging programs. Proceeds from Vernissage raise significant funds in support of the mission of the MCA's education department, whose programs offer compelling opportunities to explore, challenge, discuss, and reflect on the MCA's holdings and the larger world of contemporary art and culture.
This year's Vernissage event took place on Wednesday, September 13, and was a great event! Guests were able to enjoy some of our gourmet desserts. While Cheesecake is our specialty, we are more than just that, and events like Vernissage are a great way for us to showcase all that we do. A big thank you to MCA for allowing us to sponsor the event again this year!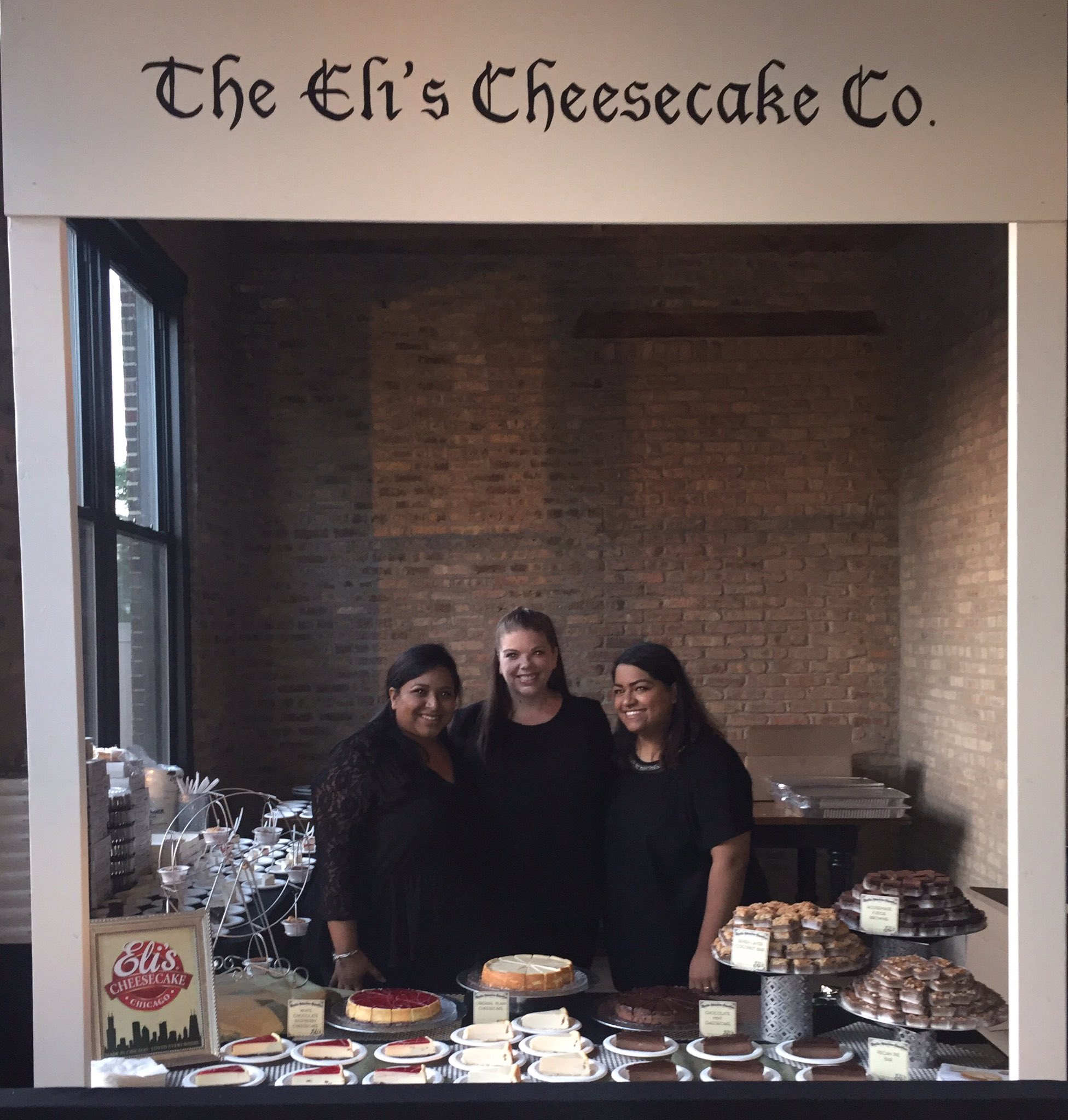 On Friday, September 15, Eli's Cheesecake participated once again in Gateway Green's 26th Annual Green Tie Ball. Chicago Gateway Green's gala raises funds for CGG's Expressway Partnership Program. The Green Tie Ball, Chicago Gateway Green's signature fundraising gala made its first appearance in 1992. What began as a 500-person party held in the street is now one of the most well-known and exclusive charity fundraising events in Chicago, attended annually by the city's most influential professionals and celebrities, and we are happy to have had the opportunity to sponsor such a great event.
On the dessert menu for the night was Eli's Original Plain Cheesecake, White Chocolate Raspberry Cheesecake, Chocolate Mint Cheesecake, Seven Layer Coconut Bar, Pecan Pie Bar, Housemade Fudge Brownie, and Blueberry Oat Bar.
Today is the 4th Annual Gala, RAICES: A Celebration of our Roots at the National Museum of Puerto Rican Arts and Culture. Each year as part of the gala, NMPRAC selects two major artists to receive their prestigious Ceiba Award, the only national award granted to Puerto Ricans for their artistic and cultural accomplishments.  Join them in honoring this year's National Puerto Rican Ceiba Award Recipients: Rita Moreno and Quiara Alegria Hudes.
Eli's Cheesecake is thrilled to be part of this tremendous event by serving our cheesecakes and desserts.
Eli's is honored to participate again  in the Wood Family Foundation's Inaugural Storybook Gala on Friday, September 22 at Morgan MFGin Chicago! Proceeds from this event go to help support Pitch In, an after school mentoring program serving Chicago's most at-risk children.
The Wood Family Foundation is a non-profit organization that was founded in 2011 by Chicago Cubs pitcher Kerry Wood and his wife, Sarah. The WFF works to improve the lives of children in and around Chicago by raising funds and awareness for its children's programs and other children's charities they support. The WFF acts as an advocate for children in the Chicago community, inspiring others to join them in their mission.
For tickets to the Storybook Gala, visit the Wood Family Foundation.
This year will be Lou Malnati's 47th annual Cancer Research Benefit! Eli's is proud to be able to donate cheesecakes & desserts for all of the attendees. The benefit will take place on Saturday, September 23rd at the Meadows Club in Rolling Meadows.
Starting in 1971, Lou and Jean Malnati hosted their first annual charity event to raise a scholarship fund for a local athlete that would play football at Wake Forest University, in the name of famous Chicago Bear Brian Piccolo, who passed away from cancer. After Lou also fell victim to cancer in 1978, Jean transformed this dinner into the Lou Malnati's Cancer Research Benefit. To date, the Lou Malnati's Cancer Research Fund has raised over $3.5 million to benefit organizations who are dedicated to finding a cure for cancer.
All proceeds from the event benefit:
On Saturday September 23, The Hideout will celebrate its 21st birthday, AND 60 years since Sputnik! Join them for a night full of fun, music, and, of course, Eli's Cheesecake! Proceeds from the party will help support Foundations Of Music. The fun begins at 1:30pm, and a $20 donation will be collected at the door.